The Altogether online portal provides an overview of your account and allows you to:
access your current and past bills
download your transaction history
view your previous usage
pay your bill
update or setup a direct debit
update other account information
To request to reset your password or register as a first time user:
Go to www.altogethergroup.com.au and click the account button in the top right corner of your screen:

Select Forgot Password? First-time user?
Enter the email address you provided when you signed up with Altogether and select SEND RESET: LINK:
To complete your password reset or setup:
Within five minutes of your request, you will receive an email with a reset password link.
Note: This may be delivered to a junk or spam folder
Select click here:

Enter and confirm your password, then press SET PASSWORD:

Note: In addition to the above password requirements, you are required to create a secure password.
Avoid using:
the word "Password"
Letter sequences (abc)
Number sequences (123)
Anything that could be easily guessed.
You will be advised if your password isn't sufficient: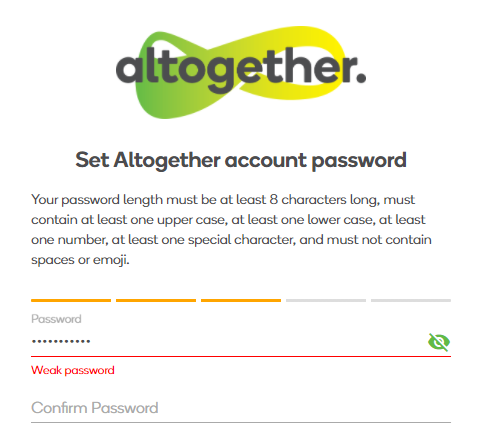 Once set, a pop-up will confirm it's successful. To access the portal, click LOG IN:

Enter your email address and password, then select LOG IN: